Introducing
Metafy Memberships
Community
Support the players and creators you care about
We give up to 50% of the profits from memberships back to the players and creators you care about.
Videos
Get unlimited access to a
mountain of video content
Coaching Sessions
Learn from the best for even less
All Metafy Members gets $10/mo credit to all live sessions, training plans, and Replay Reviews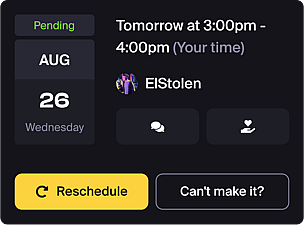 Josh Frink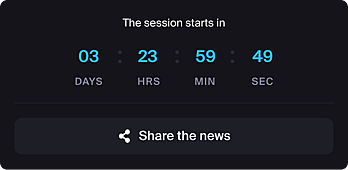 Community
Don't just take
our word for it
"Simply an amazing teacher for my daughter. Very knowledgeable, nice and patient. Will definitely continue our sessions."
"Always great ! Works great with my kids on Pokemon lessons! We have had lessons with Zach for more than two years! Always professional! His deck lists are 💰☕️"

Devenpebbles
Metafy Student
"Zach can descriptive with improvements need to be made throughout the game and will help along the way!"
AndresJgames
Metafy Student
"Been very informative sessions,Gabe is a great guy and his info has been great.Booking a session now for a upcoming league challenge"

"Smart is a really nice guy who cares about all of his students and is knowledgeable about the game."

Tyson Holder
Metafy Student
"A wonderful teacher! Gabe helped me understand so many things and i look forward to booking another coaching session!"

The Mist Assassin
Metafy Student
"Tord is very approachable and calm, his level of understanding is leagues above everyone. How he passes it on is also very short simple and easy to understand"
"With Tord's help my son finished with a winning record at the World Championships and recently won his first Regional Championship. Tord is amazing!"
carterjray
Metafy Student
"Learned a lot from Tord. He is so kind and patient with all my questions. Looking forward to meeting with him again!"
"Great session! Very informative and insightful, very patient with questions and responsive to ideas."

"Azul is not only great at playing the Pokemon TCG, he is also great at teaching it. He helps not only with your specific deck, but also overall gameplay skills."

"Azul really knows the ins and outs of the PTCG. He was a major help for me in trying to figure out what decks I should play, how to practice them effectively, and how to become a better player in general. He's one of the best of the best, and his knowledge, advice, and skill proves this. I highly recommend him to anyone who wants to become a better player whether you're a rookie or a seasoned veteran."

qualitycontentat2am
Metafy Student
"Jesper helped me through the season and now I have a regional win!"

"Jesper was fantastic, he explained sequencing very clearly and talked through our turns! Would highly recommend to those new and experienced with the game!!"

Alex Jackson
Metafy Student
"Jesper is clearly very knowledgeable and so far I've been learning a lot! Will continue to look forward to our sessions!"
Tony Hoang
Metafy Student
"On my first lesson i learned so much about my game and how i can get better. And he knows a lot about strategy and gameplan. Im booking another lesson :)"

"great first session with my 10 year old son - thought he was very good at speaking with a child and talking through decisions - looking forward to the rest of our sessions"
Halemanukid
Metafy Student
"Coaching was great! Learned a lot about what to expect for the upcoming regionals. Will definitely make time to do this again."

Eliseo Acevedo
Metafy Student
"Fantastic session! very insightful, and it was clear that Sininchi is an expert and knows how to teach and convey that information as well!"

"Enjoyed reviewing deck choice, was a great first experience. Good explanation and instruction. Looking forward to next session!"

"Pedro is as good at teaching as he is at playing, I will repeat the coaching with him"
Felipe Ríos
Metafy Student
"Natalie is the best coach I have ever had! She gives incredible insight into some abstract concepts of the TCG that I have never heard about from other coaches."

"Natallie helped me back then to prepare for LAIC and her deckbuilding tips were amazing! She quickly identified my playstyle and needs and helped me crafting"

Abe Fukasawa
Metafy Student
"Natalie is very knowledgeable about the micro decisions that go on with each hand and is a great pick for learning sequencing!"

"Calvin is very professional. He does a great job of listening to your concerns to improve as a player, and gives amazing insight and advice. Highly recommend!!!"

DiscGolf99
Metafy Student
"Calvin spent some time with me telling me how his coaching works. He is very professional, and has options for everyone!"

"Cal was Very Helpful if You aren't sure how to play a certain matchup or just need help with a list he's very helpful and kind"

"Cyrus gave me a thorough review of my gameplay. She was very descriptive about the things I can work on. Looking forward to more!"

"Cyrus is excellent. She went above and beyond to answer every question and give further advice. Incredibly friendly, easy to talk to, overall fantastic session."

"Cyrus was absolutely amazing. Not just in deck knowledge but in how to prepare MENTALLY for large events. Highly recommend!"

Rgklcarter
Metafy Student
"Great consultation with Nico. Will be booking more sessions In the future"

MaxRoberts1
Metafy Student
"Awesome coach. Went into the session not knowing anything about the game and he explained everything perfectly"
CoeurdeReaper
Metafy Student
"Nico taught me a lot. I would be going 0-3 drop without his great expertise and guidance."

"Had an extremely helpful and informative conversation that is helping me craft the best strategy possible for competing at the Regional and International level"

"Offered a top level approach and helped me fine tune areas. Help me figure out what I was doing and focus on a more consistent plan that would do better for me."
JustinHeat89
Metafy Student
"Xander is a very knowledgeable player and coach, and I can definitely recommend him for his insights and understand on the game of Pokémon."

Bergerskogen
Metafy Student
"Ian is a super nice person, and he gave me lots of insights of the meta and the certain deck. He will tell you what you should care about during the game."

PokeMax430
Metafy Student
"I had an opportunity to connect with Ian at the 11th hour in prep for a Regional tournament. He was prompt in his response and accommodating with short notice. With some chatting to set the stage prior it was a valuable session where we were able to dive right into the current meta to expect and what changes we could make to my list to strengthen my approach going into a Lugia dominant event. Ian was approachable, patient, and was supporting me right up to the morning of the event. I am confident that my outcome was improved as a result of the time spent with Ian and look forward to working with him in the future!"

"Ian understood my needs very well and addressed my concerns accurately and enabled me to succeed with Pokemon"
gengarguygg
Metafy Student
"This was my first coaching experience on this website and i don't regret a thing. The different perspective he gave me helped transform my game for the better."

"I had been wanting to get better for a while and dre has helped me find a meta deck I really enjoy"

noahdperry546
Metafy Student
"Awesome guy and very honest and helpful with his insight on the meta and decklist adjustments."

Austin Faulk
Metafy Student
"Celio is a great coach. He is very analytic, methodical and explains all his decisions. A good part of my son success (Regio win, 3rd at EUIC) we owe to Luke"

"Offered some solid advice for me to really consider, was able to detect my weakness and where I need improvement."

firespread3
Metafy Student
"Worth every penny will definitely be back for more coaching throughout the season."

Membership
Claim Your
Membership
$120 in Metafy credit for Sessions

Get $10 immediately and every month. Like an allowance but cooler.

Access to 20+ games

Series, videos, articles, guides and more for your favorite games.

560 hours of content

Watch Metafy Originals and videos from our Partners with NO ADS.

Directly support the Creators

Over 50% of Membership fees go back to the Experts that create our content.

Money back guarantee

Full refund within 72 hours of purchase or under 30 minutes of content watched*.
And with the $120 in Metafy coaching sessions included in the Membership, you get the cost of the Membership back! We're not good at math.
Cancel anytime
*Whichever occurs first. See full Terms of Service